Welcome to the Decanter World Wine Awards
Now in its 12th year, the Decanter World Wine Awards (DWWA) is the world's largest and most influential wine competition. Judged by the top wine experts from around the globe, the DWWA is trusted internationally for its rigorous judging process.
Decanter World Wine Awards 2015 results
Full results now published on Decanter.com.
Purchase DWWA bottle stickers
Make your wine stand out amongst competitors. Purchase international trophy, regional trophy, gold, silver, bronze, and commended bottle stickers.
Every winning wine, producer, and stockist has an individual page on Decanter.com
To update your stockist and price information or add a bottle image (or include contact details and logo – stockists only), please email awards@decanter.com
Participate in events to promote your DWWA 2015 winning wines
Don't miss your chance to take part in exclusive events to showcase your winning wines to key trade and consumer audiences.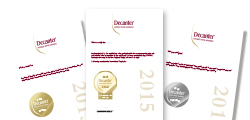 Download your DWWA certificates
Use your certificates to promote your winning wines at trade shows, consumer tastings, and prepare your social media messages to link to your wine page on Decanter.com from 14 June 2015.
Decanter World Wine Awards 2015: in pictures
Experience behind-the-scenes coverage of 2015 Decanter World Wine Awards at Tobacco Dock, London.
Judging panel
Discover more about this year's judging panel of over 200 wine experts from around the world.
Decanter World Wine Awards e-newsletter
Receive fortnightly updates and news from Decanter World Wine Awards throughout the year.
Decanter Asia Wine Awards
Focusing on the Asia market, our sister competition, is now open for entries until 10 July 2015.